Blog

Access Link Members Meeting – 30th March
Access Link members meeting on the 30th of March at the Haulotte UK HG in Telford.
Full Details to follow shortly.

Link Meets at JLG
The UK's Access Link, the association of independent regional access rental companies held its quarterly meeting at JLG UK yesterday.
The well attended meeting was chaired by the Link's recently appointed independent chairman John Ball. It covered a wide range of issues with members upbeat on utilisation and rental rate improvements this year. During the meeting JLG and Power Towers gave presentations and demonstrations of their product ranges, while IPAF presented the latest developments with Rental+ the independent quality mark for access rental companies.
Following the meeting members attended a drinks reception and dinner hosted by JLG.
Access Associations at The Belfry
Genie hosted the Access Alliance and Access Link organisations at The Belfry Golf Resort in Birmingham last week for their third quarter meetings.
The two organisations both had their own meeting rooms and agendas but came together for both lunch and dinner. Genie also had its 60ft Hybrid Z60/37 and 33ft Z33/18 boom lifts on display, as well as a 26ft GS-2669RT scissor lift.
2 Cousins Access managing director and departing Access Link chairman Keith John said: "The Access Alliance and Access Link make up over 25 percent of the market share in the UK with 15,000 machines between both organisations allowing them to compete nationally on all levels."
Tony Crawford of Mr Plant Hire and Access Alliance chairman added: "The event was a big success. Both organisations get on very well and it was a great opportunity for members of both organisations to cement trading relationships and build new ones with previously unknown members. It gives great confidence in the market that three of our members announced new depots, GT Access in Bridge End, PG Platforms in Thetford and Extreme in Coventry. I would like to congratulate Keith John of the Access Link for everything he has done to take the Link where it is today as he hands over the chairmanship to John Ball."
Jacco De Kluijver of Genie said: "For Genie it was a great pleasure to host both organisations for their quarterly meetings. Both of them represent a significant part of the UK powered access market, and hosting an event like this gives us a great opportunity to learn what is happening in the market, and at the same time be able to celebrate Genie's 50th anniversary. We would like to echo the congratulations addressed to Keith John for all the work he has done for the Access Link, and on the same note want to wish John Ball all the best in chairing the Access Link going forward."
"It was great to see how well members of both groups get along when we mingled them for a round of golf at the wonderful PGA course at the Belfry. No one got hurt, so the clubs were used appropriately!"
Permanent Chairman for Access Link
The UK association of independent rental companies, the Access Link has appointed John Ball as independent chairman.
The appointment was confirmed at yesterday's Access Link meeting held at the Belfry Golf and Hotel Facility at Wishaw, Sutton Coldfield in the West Midlands. Genie UK provided the facilities for both the Access Link and the Access Alliance to hold their separate meetings, whilst benefiting from a combined Genie Product show and presentation.
The Access Link was established in 1998 and since its formation has used membership volunteers to fill the role of chairman, with Keith John of Two Cousins the most recent. Ball founded his consulting business Velocity Rental Solutions in 2014, after more than 20 years as part owner managing director of Irish international rental company Height for Hire/Easi Uplifts, and played a major role in its international expansion.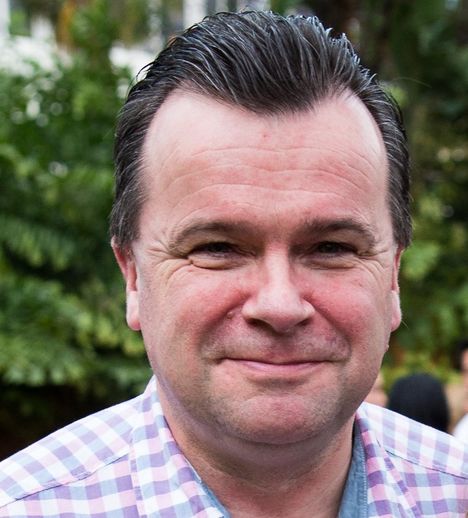 Three years ago he sold his shares in the company to the McArdle family – the majority shareholder and left the company. He is a past president of the International Powered Access Federation (IPAF) where he is still a director. He is expected to make a significant contribution to the association particularly as it embarks on an accelerated course of group buying arrangements. See Ball forms new business 
Outgoing chairman Keith John's said: "We are pleased to introduce John Ball to members as the new permanent chairman. John is a perfect fit for the Link. Since he became an independent advisor and consultant he has the capacity to bring his extensive industry experience to the Link. He chaired this first meeting and quickly displayed to the members his value to the organisation and its individual members."

Two Lifterz Apprentices Win Regional Awards
Two Lifterz apprentices won regional awards at "Stars of the Future" Awards held at the Vertikal Days exhibition at Haydock Park. Elliott Waite (left) won the 'year three' regional award and Angus Strowbridge (right) won the 'year two' award.
Austin Byrne, Lifterz' Service Manager proudly watched his two apprentices accept their award from guest speaker Nic Hamilton, the brother of Lewis Hamilton, three times world F1 champion.