Access Link at TVH
Access Link, the UK association of independent regional powered access rental companies held its quarterly meeting at TVH headquarters in Waregem, Belgium.
Link members visited the company's extensive replacement parts operations, including the brand new 13,000 square metre 'Hub' office building, parts distribution centre, and technical training facilities.
Access Link members visit Belgian parts and used equipment supplier TVH
.
This meeting was originally scheduled for the end of March 2020 but had to be postponed due to Covid lockdowns. TVH is preferred parts supplier for Access Link members.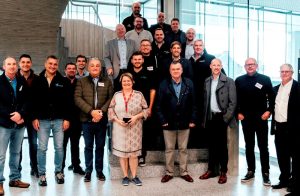 Whilst in Waregem the group also visited the Belgian rental operation TVH Equipment which is now owned by the Mateco group, following ownership changes at TVH last year. See: TVH ownership changes.
Access Link chairman John Ball said: "I last visited TVH in January 2020, along with Andy Davis, to finalise arrangements for the original meeting. When you consider that in the intervening period we have been blocked to a considerable extent, you can't help but be impressed by the amount of development that has taken place since then, with a new parts distribution centre, the Experience Centre and the state of the art construction project of the TVH Equipment rental centre. It is easy to see why TVH is a world leader in its sector. On behalf of our members, I would like to thank everyone at TVH for the two very enjoyable and informative days."